Drones are evolving to be smart.
This evolution includes the upgrade in sensors, hardware, I/O and computational capablity.

The Aerotenna Smart Drone Development Platform is a revolutionary new offering, featuring unmatched flexibility and the most capable ready-to-fly kit on the market today!
Designed for serious developers who are pushing the envelope of today's drone applications, the new Smart Drone Development Platform includes everything you need to get going, right out of the box.
Aerotenna Smart Drone Development Platform includes:
FPGA-based flight controller capable of triple redundant GPS, Compass and IMU.
Pre-loaded with the PX4 and Ardupilot Flight Control Stacks
Aerotenna's award-winning microwave radar technology:

Directional object detection and avoidance
Altitude control in all weather, in all terrains, even over water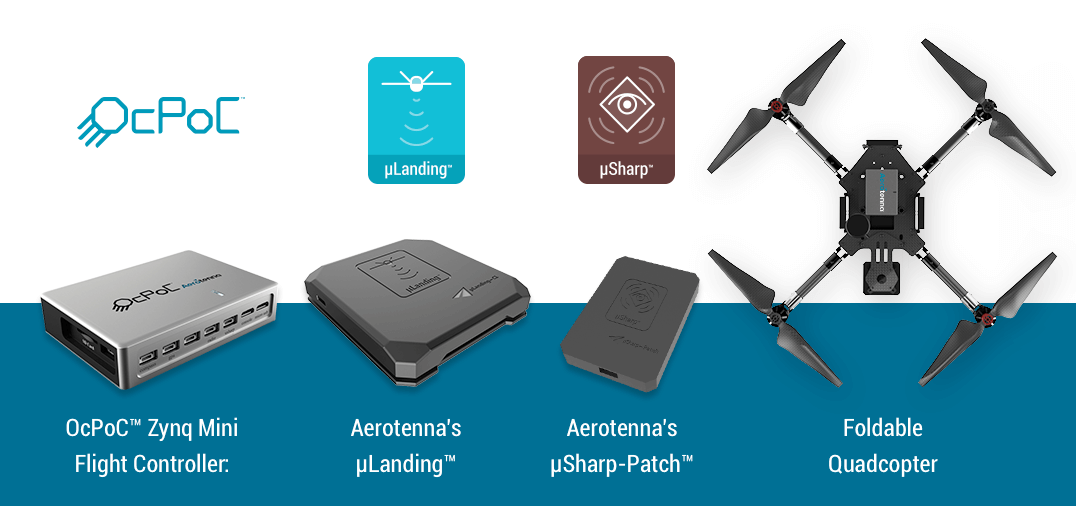 OcPoC™ Zynq Mini Flight Controller:
Ultra compact, powerful, fully programmable SoC flight controller, built around the Xilinx Zynq Processor

667MHz Dual-Core ARM A9
RAM: 512MB DDR3
Artix®-7 FPGA with 28K Logic Cells
Flash: 128Mb

16 programmable tri-pin GPIO I/Os initially configured:

12 tri-pin PWM I/Os
1 I2C bus
1 PPM input
1 SBUS input

9 programmable I/O supporting: I2C, USB-OTG, USB-UART, SPI, CSI (for camera), and GSI interfaces
1 CAN bus
16 GB Micro-SD card and Micro-SD card slot for Linux booting and data loggin
Aerotenna μLanding™:
The smallest, lightest radar altimeter available, providing superior performance in all weather conditions and challenging terrains
Maximum Altitude Range: 150m+
Altitude Accuracy: 2cm
Update Rate: 766 Hz (every 1.31 ms)
Power Consumption: 1.25 W (at 5V, 250mA)
Operating Temperature Range: -13 °F to +185 °F
Operational in All-weather Conditions
Aerotenna μSharp-Patch™:
Three μSharp-Patches scan the front, left, and right side of the vehicle, detecting and locating obstacles on the horizon quickly and reliably.
Maximum Range: 120m
Resolution: 22 cm
Update Rate: 90 Hz
Power Consumption: 1.25 W (at 5V, 250mA)
Operating Temperature Range: -13 °F to +185 °F
Operational in All-weather Conditions
Pre-assembled Quadcopter:
Carbon Fiber Airframe
GPS and Compass
Flight Time Up to 50 Minutes (16000mAh battery, no payload)
Weight (airframe, pre-assembled flight controller and sensors): 1.9 kg
Max Takeoff Weight With Battery: 4.0 kg
Fold-able arms for ease of transport
Modular component design for simple maintenance and repair
Remote Controller:
RadioLink AT9 Transmitter (2.4 GHz)
RadioLink R9DS SBUS Receiver
9 Channels Available
USB Online Update
Vibration Alarm (e.g. low battery alert)
3 ms Response Time
*Battery not included. Recommended Battery: Li-Po 6S 22.2V 4500-20000mAh, with XT-60 connector